Smart Sensor Challenge

Holland ConTech & PropTech, the innovation ecosystem for the construction and real-estate sector in the Netherlands, organized the Smart Sensor Challenge. 20 companies joined forces to look for the most innovative and relevant solutions to make living and working environments more smart, sustainable, healthier and safer.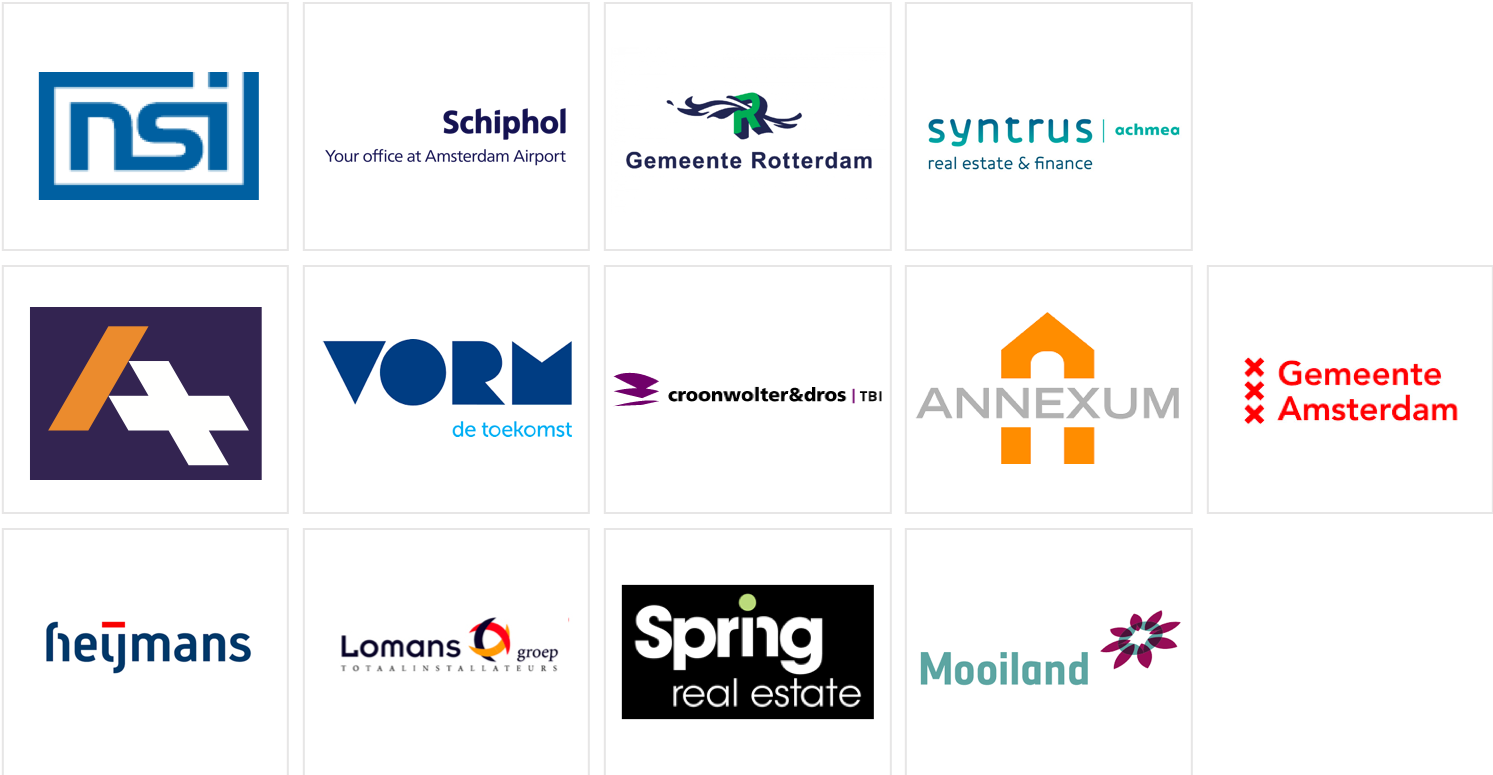 What are the companies looking for? (Technological) solutions to make buildings and/or homes more smart, sustainable, healthier and/or safer. We are looking for any of the 3 following strategy levels:

Companies that develop all kinds of smart sensors that can be used in smart homes and offices, and/or

Companies that bring together all kinds of (sensor) data into one platform in order to create data lakes, and/or

Companies that transform data lakes into insightful dashboards, apps and services for end users or building owners.

Sample questions
Which 'new' services can be deployed on the basis of collected data?

A major expense for property owners is wood maintenance. How, for example, can sensors or other techniques show us in advance what damage will occur, and where?

How can we increase the productivity of office workers?

How can we prevent water damage (as the largest damage item for buildings)?

How can we persuade residents to install sensors in their homes in the knowledge of AVG/ privacy issues and the fact that maintenance and damage is not top of mind for residents?

How can we, as real-estate developers & builders, guarantee the indoor climate in homes and offices?

Repair requests for hinges and locks and plumbing are in the top 10 repair requests for offices/homes. How can we deal with these more efficiently?

In 2021 a new building complex will be built, consisting of 68 apartments in Delft. How can we prepare this complex for the future? The focus is on making these apartments more sustainable and supporting the residents by means of sensors to measure whether residents are still okay and automatic lighting at night to prevent falling.

A+, an alliance of 8 housing corporations, invests in all-electric homes including heat pumps, boilers, mechanical ventilation, solar panels and infrared heat panels. Some of these installations already contain sensors and some do not. A+ does not yet have a tool for the collection, analysis and monitoring of sensor data, nor are all installations equipped with sensors. The housing corporation wants to be able to monitor the usage and generation of energy in all homes in order to optimize its sustainability investments and monitor the performance of the installations.

What are the real estate & construction companies not looking for?
Solutions that are still in the idea phase.

Vendor lock-in solutions.

What's in it for you?
Network & stage: Matchmaking event with the 20 participating companies, municipalities & housing corporations.

Opportunities for pilots, leads and/or supplier agreements at one or more companies, municipalities & corporations

Introduction at the Achmea Innovation Fund
Questions? You can ask those on the discussion page.



Your pitch (max. 5 A4/ 15 slides)

A. Give a clear description of your innovative solution/product (max. 2 A4).
Which (social) problem do you solve?

For which target group?

On what technology is the solution based?

What does the data flow look like? From sensor, to gateway, to database, to reporting tool (architecture)

Who owns the data? What about the privacy of the users' data?

What is the language of the sensor? Protocol (Bluetooth, zigbee, wirepas, other)

How is the sensor powered? Wireless or wired? (Battery, power, POE, other)

Indication of costs

B. Using a business case/ success case, describe the added value of your solution (max. 2 A4).

C. Let us know which strategy level your solutions is based on (1. sensors; 2. platform; 3. services/apps)

D. Give a short description of your team (max. 1 A4).

You can submit the pitch in free form (presentation/slide deck, letter form), but it must be uploaded as a pdf file (landscape or portrait A4) (max. 30MB). Videos, example websites, etc. can be included as a link.
Pitches in English are allowed.

Conditions
Registered company

The innovative solution complies with all applicable laws and regulations

Ability to demonstrate a working prototype/product/service

The solution must be scalable
Timeline
2 March 2020: Launch of challenge

Friday 9 April 2020 17:00: Deadline challenge

Friday 17 April 2020: Selection session with the 20 participating companies

June 30 till July2nd Real Estate Future Proof: pitch session mainstage & round table with the top 5 pitches per theme